Screen Printing & Embroidery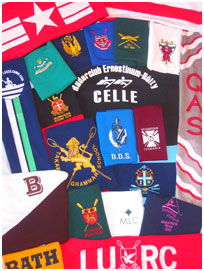 SCREENPRINTING
We offer 2 types of printing:  Plastisol ink and sublimation printing.  We are happy to send samples of either print process if you are unfamiliar with them.  To get a quote on either method, please email us your artwork or design.  You will be given the set up (one off) cost plus a price for each print or whole sublimation printed garment.
PLASTISOL  INK can be done on any of our lycra fabrics.  The  ink sits on top of the fabric and has a rubbery feel to it – fine for chest logos, small leg logos and back text print.
SUBLIMATION PRINTING is a process where the ink is heat transferred into the fabric, which doesn't alter the feel of the fabric at all and allows complete stretch of the fabric.  It can only be done on polyester lycra "Sorbtek" fabric.  It allows for more complicated designs and prints over larger areas, as well as allowing Pantone (PMS) colors to be matched perfectly in print.  It is significantly more expensive than plastisol printing, so really is only an option for bulk orders.
EMBROIDERY
Embroidery can be done on any of our fabrics.   Embroidery tends to give a more traditional (some may say more quality) look to your garment but can't show very fine details in crests, etc. as sharply as printing.  The cost will depend on how many stitches are required to complete the logo.  For a quote, please email us your logo.  You will be given a set up (one off) cost for the embroidery digitisation, plus a price per embroidered logo.